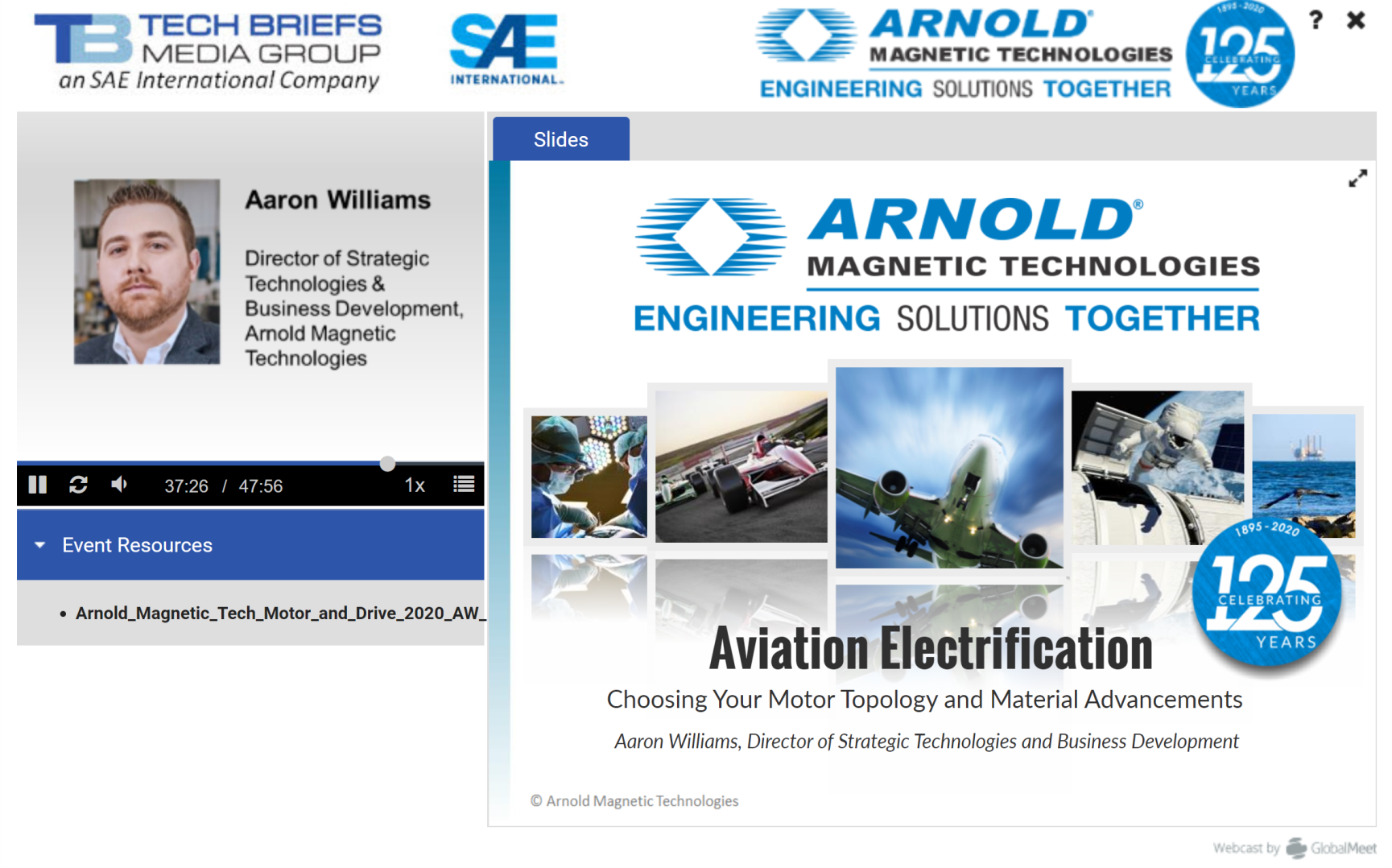 Arnold's First Webinar
We weren't able to get together in Berlin with our industry colleagues and customers for CWEIME, but you don't have to miss the presentation we had prepared for the event. Arnold's Director of Strategic Technologies and Business Development, Aaron Williams, spoke at last year's Coil Winding expo, and since the show was cancelled for 2020, we recorded this year's presentation as a webinar. The link below will give you access to the 30 minute presentation as well as the Q&A that followed. By registering to view this webinar, you will be invited to participate in future live events.
Aviation Electrification
Choosing Your Motor Topology and Material Advancements
Abstract:
As the aerospace industries continue to evolve toward more energy efficient systems new technologies are emerging.
An example of this technology would be the need for very large turbine generators to be used to power multiple wing propellers used on hybrid / electric aircraft. These new technologies are placing larger demands on motors in terms of operating speeds, temperatures, and efficiencies. Selecting the correct motor topology in order to meet these requirements is extremely important.
The presentation reviews advantages and disadvantages of motor topologies such as permanent magnet, induction, and switched reluctance. It then discusses advanced material technologies which are being incorporated into permanent magnet motors to provide the power density solutions needed for aviation electrification demands.
Presented in cooperation with TechBriefs, an SAE International Company.
What would you like Arnold to cover in an upcoming webinar?
Let us know!
---
Sign up for notifications of new blog posts