PERMANENT MAGNETS AND ASSEMBLIES
For mission critical applications
PERMANENT MAGNETS AND ASSEMBLIES
Outperform your competition with Recoma 35E
PERMANENT MAGNETS AND ASSEMBLIES
Save Time – Collaborate Early
High Performance Magnets and Precision Assemblies
Arnold's high-performance permanent magnets have a wide variety of applications, from electric motors on ships, aircraft, and motorsport cars to pump couplings, batteries, solar panels and NMR Equipment. Our diverse markets allow us to keep our technologies on the leading edge of innovation.
Our custom magnet production and fabrication ensures that our Customers receive products that are specifically catered to their unique design requirements. For your R&D projects, our Technology Center is available to assist taking your project from concept to production.
Arnold Magnetic Technologies is your non-traditional trusted partner, registered with ITAR, NDAA-compliant, and able to adhere to DFARS clauses, with certifications to meet the strictest criteria.
Permanent Magnets Products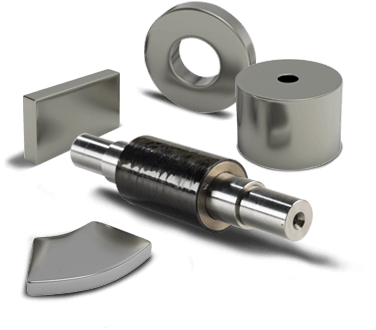 Call or message your Arnold representative today.
SERVICES
Arnold's world-class team of Engineers, Designers, and Project Managers direct the production of products and assemblies at our facilities. You will receive outstanding support at every stage of your project, no matter what material you choose or how complex your design.
INDUSTRIES
Our products are mission-critical to designs in many sectors, and our company has been evolving to meet emerging needs for over 100 years. By conforming to the requirements of the most demanding markets, we ensure world-class quality and service is carried through for every customer.
Motors & Motion Control
Consumer Electronics