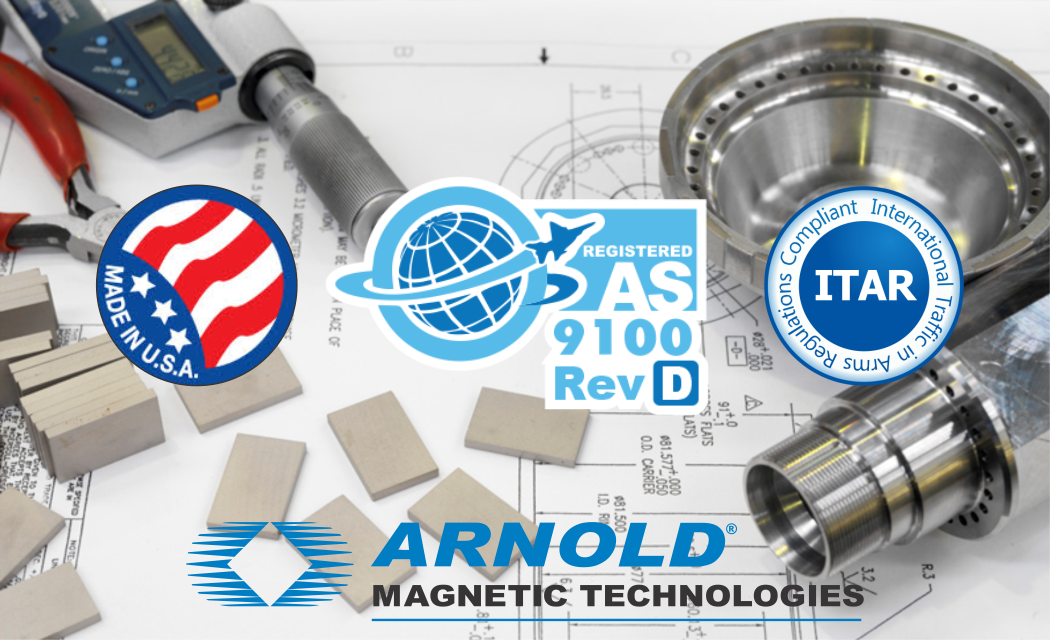 SmCo made in USA
Are you looking for Samarium Cobalt (SmCo) made in USA? At Arnold's headquarters in Rochester, NY, we fabricate and test SmCo and build custom assemblies, most of which are used in aerospace and defense projects. As a non-traditional vendor, Arnold provides materials and products used in aviation, satellites, and a wide range of critical applications where quality and performance are of utmost importance.
All locations in our Samarium Cobalt RECOMA® product's supply chain are registered with ITAR and can adhere to DFAR clauses. All of our facilities are AS9100 certified and we are proud to have served this important industry for over 125 years.
Extreme temperatures and corrosive environments call for RECOMA® Samarium Cobalt; an ideal choice for permanent magnetic applications which are expected to perform flawlessly for extended periods and with little or no maintenance. Arnold Magnetic Technologies' industry leading RECOMA® Samarium Cobalt magnet materials break the performance barriers of other magnetic components.
Offering several operational advantages, our top-of-the-line RECOMA 35E is currently the most power dense samarium cobalt magnet on the market, and is specifically created for the most demanding environments, including high speed (100,000 RPM+), high temperature (above 150°C) and highly corrosive environments, such as aerospace, motorsports, and automotive industries. As the market leader in high performance SmCo, Arnold Magnetic Technologies continues to push the boundaries of magnetic performance, while maintaining an integrated and sophisticated supply chain.
If your project requires SmCo made in USA, Arnold Magnetic Technologies can meet your needs. Contact us today.
---
Sign up for notifications of new blog posts