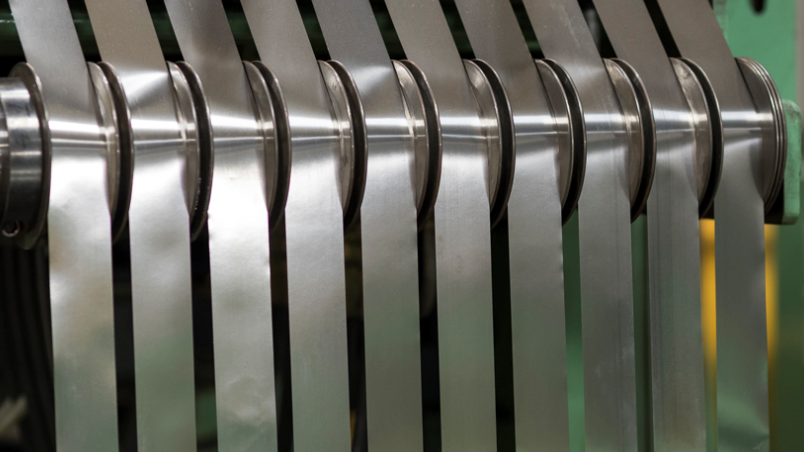 Carbon Steel
COST-EFFECTIVE AND VERSATILE MATERIAL
Arnold's Precision Thin Metals business provides high quality thin and ultra thin carbon steel in various grades, rolled to precise tolerances for thinness and flatness. Its excellent workability makes carbon steel the obvious choice in numerous commercial, automotive and defense applications. Carbon steel grades are known for good formability and can be readily rolled, drawn, and shaped.
Key Applications & Uses
Household appliances
Countermeasure substrate
Structural panels
Arnold offers cold-rolled carbon steel in a number of grades and thicknesses including those listed below.
AVAILABLE IN A RANGE OF THICKNESSES AND WIDTHS
Arnold cold rolls carbon steel to customer specifications, offering this material in a range of thicknesses and dimensions along with a variety of surface finishes and coatings.
| Thickness | Maximum Width |
| --- | --- |
| 0.01″- 0.0004″ (0.254 – 0.01mm) | 17.5″ (444.5mm) as rolled edge 17.0″ (431.8mm) with a slit edge |
| 0.00039″ – 0.00008″ (0.0099 – 0.002mm) | 4.25″ (107.95mm) as rolled edge 4.0″ (101.6mm) with a slit edge |
COMPOSITION
Arnold's PTM business produces thin and ultra-thin carbon steel in various grades and tempers. The most common grades requested are listed here.
| Grade | C | Mn | P | S |
| --- | --- | --- | --- | --- |
| 1008 | 0.08 | 0.6 | 0.030 | 0.035 |
| 1010 | 0.08 – 0.13 | 0.30 – 0.60 | 0.040 | 0.050 |