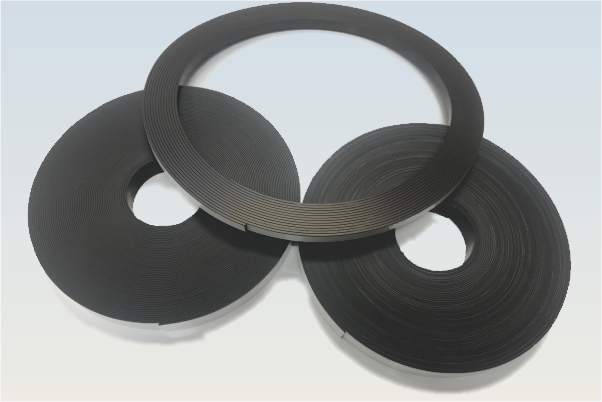 Flexible Magnetic Tape | Magnetic Strip
FlexMag™ offers flexible magnetic tape, a cutting edge solution to solve your material joining problems. These flexible magnetic strips quietly join any substrate together—seamlessly. Easy to use, most affordable and durable joining product on the market.
Self-adhesive flexible tape and strips are composed of a strong yet flexible polymer composite. We offer standard, high energy and flexible neo, which is the strongest flexible magnetic tape we offer. They are available in any width and several thicknesses—on rolls or pre-cut lengths. A selection of surface coatings and adhesives are available.
Flexible Magnet Tape adheres to irregular surfaces and holds nearly any material to a metal surface or to a receptive magnetic sheet or strip. The tape's ability to mold to odd angles and surfaces expands its range of applications. These products have been used on trade show booths, semi cabin dividers, appliance door seals, and many other holding applications.
Ideal for:
Curtain Closures
Freezer/Refrigerator Seals
Garment Closures
Gaskets
Inventory Control
Retail & Merchandising
Sensors (Pair with AMS Magnets)
Shelf Labeling
Shower Doors
Trade Show/Expo Graphics
Window Seals
For small projects, we also offer consumer-off-the-shelf magnetic tape in our online store:
---
Looking for Flexible Magnetic Sheets?
Magnetic sheets by the roll or truckload are also available.